It was a long week.  I don't know why it was so long.  I had last Monday off as a holiday, and the Friday before it was a vacation day, so I had a 4 day long weekend, followed by a 4 day work week.  But for some reason, that four day work week was a really long week.
I think it was because I had also scheduled to take this Friday off, so I *was* going to have a 3 day work week, but then I decided to work Friday, you know, lots to do at work.  That may have been a mistake.
We gathered last Thursday for our Thursday night gaming, but Daron was busy.  So we didn't get to play D&D, so no Pun Pun.  I did bring Cosmic Encounter and we played that without Daron and Summer.
I wasn't sure how Cosmic Encounter would play with the Thursday night group.  I don't remember doing anything but playing RPG's with that group.  Eric loves any type of game, and Eric was full on ready for some backstabbing in Cosmic Encounter.  Loren, Mathew and Jeremy (not Jirimiah) were game, ready to try something new.
I tried to explain the rules, but it is something that you need to play through to get the swing of things.  I was surprised.  Loren, Matthew and Jeremy all seemed to enjoy the backstabby shivving best friend then backstabby shivving thing again.  Loren has told me before that she only really likes RPG's, and the board games she likes playing are things like Star Fleet Battles and BattleTech.  I have played games like Car Wars with her, and she doesn't seem to enjoy that as much as an RPG.  I get it, in an RPG, you are not trying to figure out how to get the proper mix of cards, resources, etc to get the most number of victory points.  In an RPG, you can try to build a character to tell a story.  That is more fun to me also, but I do enjoy board games with friends, as the game is a foil to allow people to spend time together.  Other people do it with football, baseball, book clubs etc.
The game went very well.  Everyone seemed to get into the overall wonkiness of the rules.  I had a special card, that if I kept it, I would automatically win if all of the cards of one of the decks was consumed, requiring a reshuffle of that deck.  I sat with zero victory points for most of the game, as I wanted to see if I could win with that card alone.  I did, but then Matthew played a cosmic zap card that took away that card just as I played it, so for an infinitely small amount of time I won, then I didn't.  I also decided at one point where both Loren and I played a negotiate card that I would play kingmaker, and give Loren the two victory points she needed to win, and I would get my first victory point, that worked well, until Jeremy played a card that undid all negotiations.
In the end, Eric and Matthew won, as they both played a negotiate card, and were able to give each other the number of victory points to simultaneously win.  I pointed out to Matthew that he would not be "THE" winner, but he was perfectly happy being "a" winner.  🙂
The powers in the game were a lot of fun.  Matthew never played his power.  Eric's power allowed him to add the total number of ships in his own system that were not on the planet being attacked to his attack card value.  This was pretty devastating for everyone attacking him.
Jeremy's special power was that any attack he was a main player was first determined by a 50/50 random draw.  That meant that if Jeremy wanted to, he could commit 1 resource to an attack, and then let chance, pure chance determine the outcome.  Jeremy seemed to really like this, and did it over and over and over.
For some reason, every time Jeremy and Eric attacked each other, Eric was able to win the chance.  Whenever Jeremy and Loren attacked each other Loren always lost.  Not sure why, but the force was not with Loren last Thursday night.
I am blanking on Loren's power at this point.  All I know is that whenever she attacked me, it was bad for me.   I think her power was that when she was attacked, or attacked someone else, she could randomly select a card from the other player's hand.  She did this to me a lot.
My power was that whenever I pulled ships from the void, I got 2 extra ships.  Whenever I pulled cards, I got two extra cards.  This allowed me to have a ginormous stack of cards.  This helped me keep the cards I wanted, as I had a few really good cards, but whenever Loren stole a card from my hand, it was usually, but not always, a crummy card for her.
Fun was had.  Everyone told me that they would play Cosmic Encounter again.  That is good, since I really like that game.
The key to a good Cosmic Encounter game is to have a bunch of people who are willing to be awful to each other.  You have to revel in other people's pain and suffering, and not get your nose out of joint when you lose terribly.  There is also some level of bluffing and trash talk that is included in the game.  If you play it with a bunch of people who are all nice to each other, then it is not a really good game.
You also have to enjoy a game that strategy does not really work super well in.  There are no dice, so the random element is related to what cards you pull, along with how you can use any given moment to screw another player.
Roy, the owner of Dice Age Game Emporium does not like Cosmic Encounter.  Roy likes games where he can map out a strategy, and work through it while denying other people what they want.  He seems to revel in games where you have 100 possible paths to victory and as you play the game, you pick a path, and as things are denied you by other players, you continually refine that path to victory to figure out how to deal with the current situation.
That works well for lots of strategy games.  It doesn't work well for games that are based on some level of chaos.  In my opinion, if you are playing Cosmic Encounter "right", there is lots of opportunity for chaos…
Hopefully, we will all be ready to play more D&D, and Pun Pun will have some more tales to tell.  I was surprised at the response that I got about Pun Pun's story on the blog.  Everyone thought that it was not a true representation of what happened, since it happened from her perspective.  Really, aren't all stories told from a perspective?  Do we doubt the news, because it is from a perspective?
Bah, write your own blog if you don't like Pun Pun's story from her perspective.
Saturday, we played more Savage Worlds, War of the Dead.
Sue was still not there.  She was probably finishing up her top secret mission to the third world country that she is helping overthrow.  Bill, Mike's official government minder left to go back to Arizona.  We are not sure if this is because the Trump administration decided that Mike was not a threat, no longer a threat, or if there was no threat in the first place.  Mike is sworn to secrecy.  Bill didn't tell us.
The other Bill, Bill the huge fan of 1980's power ballads, was back.  He thought that Air Supply's show was amazing.  He still had some whip marks on his arms, where he was brutally attacked by old women thrashing around in the mosh pit while "All out of Love" was playing.  We warned him, grannies in a mosh pit is not a good combination.  They whip their walkers around and pinch cheeks in full on orgasmatronic mode.
Bill was also having problems with his computer again.  He "claims" that the hard drive was having problems.  Probably a virus.  You know how they are.  The virus's that is.  Anyhow, after Bill got the computer working, he was upset because Comcast, or someone was throttling his download speed while he was trying to restore his mega game library from Steam.  I suggested that it would probably work faster if he simultaneously downloaded his games from Steam while also viewing some really nasty stuff from Pornhub.  After all, no one just downloads games from Steam.  Steam knows that it is probably a denial of service attack if you are only downloading games.  You need some raunchy porn to go along with the game download to satisfy the servers.
I also suggested to Bill that he should do a punk rock version of this beauty.
Mike was still lamenting the lack of Sue at home.  We all felt bad for him.  It is hard having a true patriot who is willing to "watch their daughter's cat" for weeks at a time.  We all know that this is some sort of code.  We are not sure what the code is, but Mike told us that Sue will be flying back after next weeks game.
Shari and Collin were ready to play.  Shari had some sort of secret that she was not able to tell, but I could tell that it was bugging her to no end.  She wanted to tell us, but it was a horrible secret and she was not allowed to tell it.  Collin sat there and couldn't make it through a sentence without including "And Gloomhaven is so awesome!"
It was kind of odd.  He was saying things like "I had a sandwich for lunch, and Goomhaven is so Awesome!" and "I was driving my car and Gloomhaven is so awesome!", and "And there I was looking at the bean burrito at Taco Bell and Gloomhaven is so AWESOME!"  I am not sure if this is a new form of Tourette's, or some other malady, but we need to be wary of.
Eric brought a toilet for Roy.  Most customers pay with money, possibly a bank card or maybe some chickens.  This is the first time I have ever seen a customer pay with a used toilet, and one that didn't even have a seat.  I guess I have a lot to learn about bartering.
It took 5 people the better part of an hour to install the toilet.  I didn't realize that so many people needed to sit on a toilet to get the wax ring to seat.  Also, Shari showed her home improvement prowess by showing all of the men who were working on removing the toilet that you didn't need a ruler to pull out the old wax ring, you just needed to grab it like Trump would and pull it out.
So we started playing some Savage Worlds.  It was a lot of fun, but it would be better if Sue were there, showing me that I was number one.  I get this a lot.  I get it at work, I get it at the game store…  I get it from Mike, when I remind him of his character needs.
I think that Mike is having a good time.  I am not sure.  He may be showing his true nature after being separated from Sue for so long.  We had some conversations via Facebook Messenger, and Sue said at one point that we should mess with Mike, and then also said that we should leave Mike alone….  I am confused.
Where were we.  Oh yeah, Savage Worlds.
Because the party skipped by some of the vignettes last session, they had to deal with guilt, or at least some of them did.  The party members were required to make a Spirit roll, at a -2, and if they didn't make it, they would feel guild over not doing anything useful to help the people in the three things that happened.  Let's see, what did they do…?
Oh yeah, they didn't help the three soldiers that were stuck in the truck, surrounded by zombies.  Well, Bill, the government minder did die trying to help.  Then, they tried to help the nice young lady with her toddler child out of the car, sort of.  Until she was overrun by zombies, and then they shot her dead.  Then they started a fire at the gun mart without helping the guy on the roof.
You see, actions have consequences.  Just look at this dildo, and you know that I am right.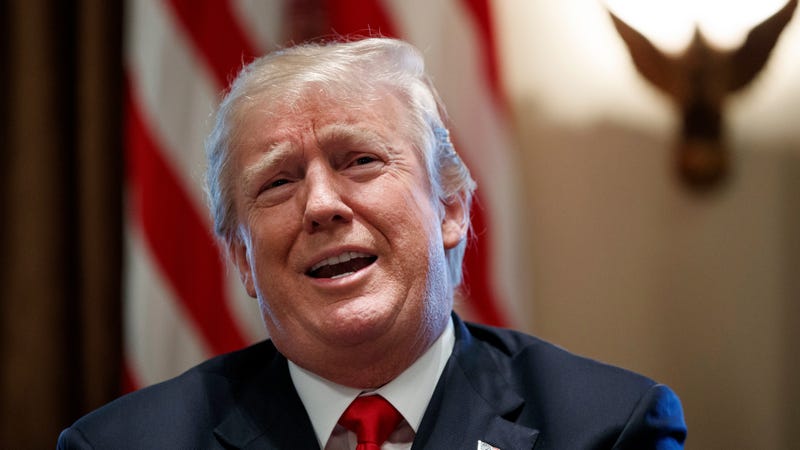 Too many people stayed home on election night, you know who I am talking about, all the illegal aliens who could have voted, all the dead people who could have voted.
Now I am not saying that Killary would have been any better.  I really didn't like Killary, but I dislike Trump more.
As Commissioner Gordon said in The Dark Knight…
Gordon:
 He's the dildo 'Merica deserves, but not the one it needs right now. So we'll worship him. Because he needs it. Because he's our dildo. He's a loud, asinine dipshit. A true disgrace to the Human race.
Well, maybe Commissioner Gordon was talking about someone else, but I think the quote above just about says it all.
For the record, there are Trump Dildos available.  This one is a standard dildo..
This one has an expanded base, to make sure that it doesn't go too far into the anus.
There are also multicolored Trump Dildos on Etsy…
Now if those pictures above offend you, I don't care.  Trump is a tool.  He is not even a good tool.  In case you haven't figured it out yet, my politics are such that I dislike Trump, Ted Cruz, Paul Ryan, and a bunch of other good for nothings that are in DC.
Now, in all fairness, I don't think that the other side has much to be proud of either.  I just find that the far right conservative side tends to offend me more at this time than the left does.
But that has nothing to do with Savage Worlds, or the World of the Dead, or Saturday's game.  For some reason, any simple thing that these dipshits do derails me.  Like the concept of arming teachers to save kids in schools.  What a stupid idea.  Why not adequately fund the teachers so that they don't have to buy their own supplies for the classroom first?  Maybe, just maybe, stop sucking on the NRA's tit and realize that there are between 4 and 5 million members of the NRA.  4 million is what the Huffington Post estimated based on their annual budget of $160 million and a $40 membership fee, 5 million is based on NRA's actual posting of information online.  There are 327 million people in the USA.  A quick math equation of 5 million NRA members out of 327 million people in the US means that approximately 1.53% of the population of the US are NRA members.
How exactly does 1.53% of the population dominate the national dialog?
Let's do some comparisons.  The National Geographic Society has 6.8 million members.  Sunset Magazine has 1.3 million publication subscriptions.
Why doesn't the National Geographic Society get the same time in front of congress, making sure that natives don't wear things covering their breasts, and keeping beautiful butterflies flying?
I see what you did there.  You let me get distracted again.  Damn, you are good.
So because of guilt, something that the NRA and Republican Leadership are immune to, some of the party members start out with fewer poker chip bennies than the others.  Eric and Bill were unaffected by the fact that they didn't help out people who were in dire straits, so they started out with three bennies.  The rest of the party members had some level of guilt, so they started out with only one bennie, and they will do that for this session and three more sessions.
The party starts out, and shortly finds an HEB.
Now the players keep asking what an HEB is.  I have told them several times that it is a grocery chain in the south.  The players at the table are convinced I am wrong, just like I was wrong when I said that buildings had basements, since obviously no building ever had a basement in Florida, not knowing that they were actually in North Carolina.  The party also included haters who said that there was no way that any boat ever, ever didn't have a roof on it.
As they approach the HEB, they find that there are three cars and one van in the parking lot.  The cars are a really nice Chrysler K car complete with stick shift, sun roof  and electric door locks.  Shari is in love.  This is the ideal car for her, so she says…  Earth calling Collin, take note here.
The second car is a beat up old VW bug.  Every panel on the car is a different color.  The interior pleather seats are cracked.  Mike asks if the doors are locked.  I respond that the doors are locked, but like all old VW Bugs, the lock doesn't work, and he can open it right up.  Mike responds, just like my old bug…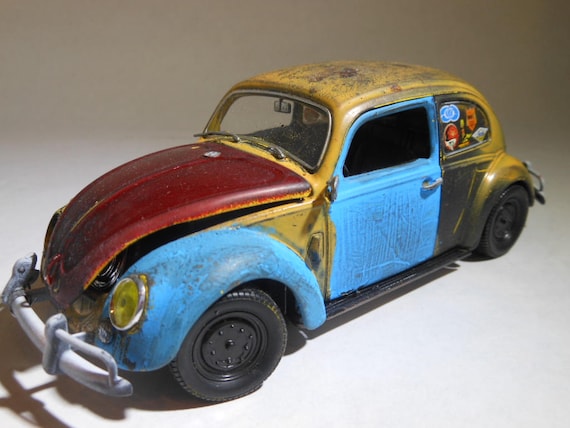 The third car is a 1980 Yugo.
The party doesn't even bother with this car.  I am not sure why.  They are convinced that it will not be worthwhile for anything.  I reasoned that if the 1980 Yugo made it to 2018, someone was putting a lot of TLC into it.  It may be a pretty sweet ride.  But no interest from the party.
The vehicle that the party really focused on was the 1975 Chevy van.
The paint is a pearlescent white at the top of the van, and has a lavender bottom, with the paint colors blended, including a darker purple flop and a classy amount of metal flake added.  The wheels are Cragger mags, and the back wheels are slightly larger than the front ones, giving the van an aggressive stance.
The windows on the back doors are painted over.  There are no windows on the main cab of the van, and the driver and passenger doors are tinted cop killer black.
All of the chrome work on the van is super shiny, where someone has obviously spent a fortune on getting it all nickel plated, then triple chromed.  This was someone's labor of love.
The inside is truly classy plush shag carpet, with four captains chairs all of which swivel around to a post in the middle where a steel tube can be attached with a small table to play cards and hold your beer cans on.
The party is wary.  Rob never gives out something as nice as this.  There must be a catch.  There must be.
Eric is nervous.  He decides that he is going to carefully open the hood of the van, and pop the battery cable off the post.  This kills whatever power might be on the security system.
Eric opens the door, and finds out this this van is even better than they thought.  It has a full 8-track music system, and even better, it has a case of 8-tracks.
There is vintage gold in the case.  Golden Earring, Blue Oyster Cult, The Rolling Stones, Waylon Jennings, The Carpenters, Fleetwood Mac Rumors, and six Dianna Ross cassettes.  The party is upset, because there are no Beatles cassettes.  Mike sat and sulked because there were no Beatles tapes.  He kept muttering to himself that when he had an 8-track, he had several Beatles cassettes.
The van also has a CB radio.  None of the party clued into that when I was telling them about the van interior.  They were too fixated on the fact that there was an air mattress in the back on the shag carpet, and a large wooden box that included a healthy supply of condoms, lube and the marijuana.  Mike grabbed the pot.  I think he wanted to make sure that it was properly secured.  Shari grabbed all of the lube.  No one bothered with the box or the condoms.
Eric noticed that in the back of the van, there were really odd metal poles that were bolted onto the bottom frame of the van, and created a large frame in the back.  There were ample tie points on the frame also.  It almost looked like this van had the ability to restrain someone… I wonder what that would be useful for?
The only thing the van was missing was some sweet graphics like this…
Mike wants to know where the keys are, after all, it would be a shame to ruin this van by having to hotwire it.  Against all odds, the keys were above the sun visor, and they fell right into Mikes hands when he tilted the visor down.
Bill was concerned.  There must be something wrong with this van.  Rob never gives away anything that is nice or useful.  Never.  Never.
Eric goes and reconnects the battery under the hood.  The entire party is concerned now.  Bill has been going on for so long about how Rob never does anything good, ever, that they are now all worried.
Geez, all I was trying to do was give the party something nice, to see how long they could keep it nice before it gets wrecked.
The prize was in the grocery store though.  The party needed to get the drugs from the store to help the little girl back at the warehouse.
The party wants to know what the inside of the store looks like.  It is dark.  There are so many sale posters up on the windows that no light is getting in the store.
Mike spends about 5 minutes looking at the door, trying to figure out if it is a good idea to open it or not.  The entrance has two doors.  The doors swing on a hinge, and if there were power, when a person stepped on a pressure mat, the door would open.  Shari tells the rest of the players at the table that these pressure mats only worked for people who wore shoes, but if you tried it barefoot, the mats wouldn't work.  Shari speaks with authority, so we decide to let her have her moment.  No one calls BS on her.  We really don't know for sure.
The doors are not locked, and are easily pushed in.  The party slowly enters the HEB, wearing shoes, hoping that it isn't a trap.
Mike goes for the liquor section of the store.  He finds it, and immediately starts breaking the glass out of the security system to get at the liquor.
Everyone still hopes it isn't a trap.
Well, it is.  The book says six zombies per player.  The players get into the HEB, then all hell breaks loose.  While Eric, Collin and Shari run like the wind outside, Mike and Bill are left, surrounded by zombies.
Mike is able to get away.
Bill is not so lucky.  He is surrounded and bit several times.  He isn't able to shake all of the wounds.  Bill declares that he is going to immolate himself, pouring flammable liquid onto himself, and then charging the group of zombies closest to the liquor cabinets.
Billimolation runs at the zombies, and starts the store on fire.
Everyone runs to the van, and just as the fast zombies catch up, Mike tosses the keys to Eric, Mike crawls in and shuts the sliding door on the van, Eric starts up the van, and slides over to the passenger seat, and Collin gets in to drive.
The Chev 350 sounds good.  Somoene did some major work on the engine, it rumbles, and sounds pretty nice.  The engine is backed up by some rodded glass packs.  Collin starts driving away, and the zombies follow.
Shari asks if she should help Bill.  Bill says "I am dead".  I remind Bill that he will not be dead in a short while.  Well, kind of not dead any more.  Shari decides that it is not worth trying to save the corpse that was once bill.  CTWOB, kind of like TAFKAP.  I wonder what symbol CTWOB would use.
The party is distressed because they have no meds.  I don't think that they are as worried about losing the detective.  Maybe they were.
The zombies pour out of the HEB, and start following the van as it rumbles slowly around the store.  Collin starts having them trail out like a tail, and then gets enough zombies behind them that he can race forward, and let the rest of the party jump out of the van, get on top of it, and get to the ladder to the HEB roof.
The party finds the roof is locked, but Mike is able to use his crowbar, and his benny for a second roll to pry open the access door on the roof.
As soon as the door is open, smoke roils out from the fire inside.  Mike bravely scales the ladder, after describing how he will keep out the smoke by urinating on a rag, and tieing it around his mouth.  This was said in the game store at a higher volume than the rest of the game conversation for some reason.  When Mike declared this, Jirimiah, Lisa and several other people all looked up like "what the hell is going on over there?"
Mike descends and finds that other than the store being on fire, there do not appear to be any zombie threats.  He goes back up, and everyone decides to come down.  Shari takes the crowbar and gently opens the door the the pharmacy, and Eric and Mike start looking for cold medicine.  I explain to them that they are in the pharmacy, and only prescriptions are here, the normal cold and flu stuff is out in the store.
There is a corpse on the floor, with a gun nearby.  It appears that the pharmacist killed himself.
With complication comes inspiration.  Eric starts gathering all of the bags of prepared bags of medicine.  A very large amount of bags are filled with amoxicillin, and speak about treatment for Chlamydia.  There appears to have been an outbreak before the outbreak here in town.
Mike and Eric, both being athletes know what sort of opiate drugs are the best to have, and make sure that they gather all of the opiates, and other similar drugs.
After a short while, the party gathers all of the drugs they can find, put them all into plastic bins and shopping baskets and shuttle them up the ladder onto the roof.
By this time, there are many zombies trying to get into the van that Collin was sitting in.  Collin did the same thing, driving around slowly, creating a tail of zombies following him around.  After a while, enough zombies are following far enough back that the Collin can drive back, the rest of the party (except Bill) come down, get into the van with their huge selection of drugs.
The party moves on, driving around, and they realize that they have no idea how to get back to the warehouse.  As they drive around, Collin notices the road is exploding behind them.  Collin accelerates, then turns left down a side street into a construction zone.  Collin rolls so well on his driving roll that he doesn't get any dust or dirt on the van from the construction site.
As they continue on, they see the new Bill character.  He is a Roman Leginaire
His name is Biggus Dickus, or maybe it was Vibratta Clitoris, Suppositorious or Overanxious Odus .
Bill is all about removing the huns that have attacked the capital.  He quickly gets into the van, and is ready to work with the group.  He likes the carriage that the Senators are driving him around in.
The van gets driven back to the warehouse eventually.  There are hundreds of zombies on each side of the warehouse.  This is where the conversation gets interesting.  Eric wants to have the vehicle driven up next to a man door, and the party will open up the sliding door on the van, the man door will open up into the warehouse, and the party can enter.  Collin had a long conversation about man doors on buildings.  For some reason, he was concerned about these.
Collin has a problem with man doors.  I am not sure what they ever did to Collin, but Collin is really wigged out about them.
It ends up that the party drives around and gets another tail of zombies following, and empties out one side.  In a complicated throw, Bill's centurion shows off his throwing skills and throws a tire iron with a rope attached onto the roof.  It is retrieved by the people at the top who take the drugs from the party.
Things are supposed to go smoothly from here.  They don't.  The zombies overrun the warehouse.  But since the party didn't go back into the warehouse, they didn't get into the boss fight, but as they drive away, they see the spurt of blood arcing from the people on the top of the building, as zombies consume the people that just got the medications.
Well, that sucks.
As the party drives away, the sun is setting, it is kind of pretty, and an apache helicopter crashes right in front of them.
More later.